Snow storm / Tempête de neige
October 2022. Second day in a row in the snowstorm. This is the third since I've been here. Enough to already cover the event with a certain banality. A few days after my arrival, the flakes were hurtling down at over 150 kilometers per hour. Hit hard while trying to get home that day, Jeanne had lost her balance several times over a distance of a few dozen meters, and was only able to reach her front door with the help of people anchored to their machines. We were able to share this powerful experience, telling each other about the repeated assaults of the wind against the shaking walls of our homes. These days, the weather has become humbler. Yet, the school is closed today, the Pilersuisoq (the local grocery store) is slow, the post office is closed, and few are trying to get into the powder. Some on foot, more often on the snowmobiles that redesign the roads after each storm, before the snowplow puts them back in order. Stuck inside, lulled by the whistling of the gusts on the walls of my house and surprised by the slightest sign of life coming from outside. Outside, the visibility is variable, with each step, one does not know how many centimeters lower one will be. Caution is required, these stormy moments are conducive to the loss of orientation and the arrival of polar bears in the village. In recent years, winter storms have become more and more frequent in the fall.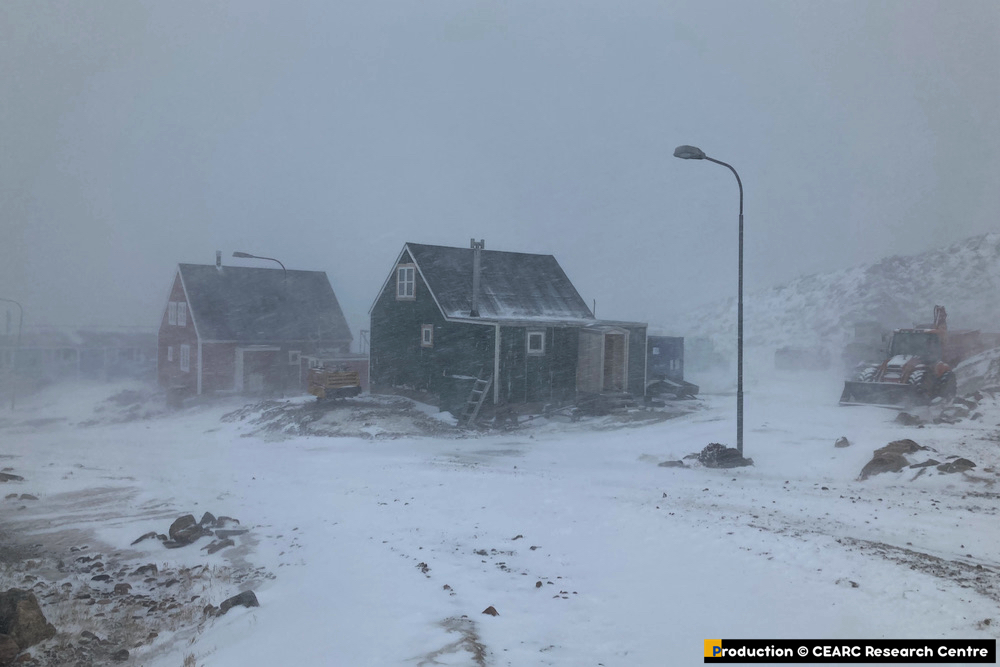 by / par Tanguy Sandré
Octobre 2021. Deuxième jour consécutif dans la tempête de neige. C'est la troisième depuis que je suis ici. Suffisamment pour déjà couvrir d'une certaine banalité l'événement. Quelques jours après mon arrivée, les flocons s'élançaient dans un tumulte à plus de 150 kilomètres par heure. Frappée de plein fouet en tentant de rentrer chez elle ce jour-là, Jeanne s'était vue perdre l'équilibre plusieurs fois sur une distance de quelques dizaines de mètres, et n'a pu atteindre sa porte d'entrée qu'avec l'aide de personnes ancrées sur leurs engins. On a pu partager cette puissante expérience, se raconter les assauts répétés du vent contre les murs tremblant de nos maisons. Ces jours-ci, la météo s'est parée de plus d'humilité. Pourtant, l'école est fermée aujourd'hui, le Pilersuisoq (l'épicerie locale) tourne au ralenti, le guichet postal est fermé et peu nombreux·ses sont celleux qui tentent de s'incruster dans la poudre. Certain·es à pied, plus souvent sur les motoneiges qui redessinent de nouvelles courbures aux routes après chaque tempête, avant que la déneigeuse ne remette un peu d'ordre. Coincé à l'intérieur donc, bercé par les sifflements des rafales sur les murs de ma maison et surpris par le moindre signe de vie venant de l'extérieur. Dehors, la visibilité est variable, à chaque pas, on ne sait pas combien de centimètres plus bas on va se retrouver. La prudence est de mise, ces moments tempétueux sont propices à la perte d'orientation et à l'arrivée d'ours polaire dans le village. Depuis quelques années, les tempêtes hivernales sont devenues de plus en plus fréquentes dès l'automne.