Restlessness / L'intranquille
Thursday September 23rd, a day tinged with a nice excitement: with the idea to enjoy the beautiful days to come, after 10 days of bad weather, and the desire to go explore other places than the village, I rented a shotgun at Nanu Travel, the tourist agency of the village. For 150 Danish kroner, about 20€, you can rent a shotgun. Olena who works at the agency, showed me the characteristics of this rifle and then let me leave with it... It is inconceivable to go away from the village without a weapon, to be prepared for the possible presence of polar bears. It is the occasion to go in the direction of the reservoir lake in the north of the village, to realize the vulnerability of this resource in this context of accelerated warming. The path is well marked, despite the snow that has accumulated in places, but it is too far from the village to venture out unarmed.
The day of Tanguy's arrival, we decide to take the direction together Once out of the village, well away, it seems the right time to load the machine. Except that I don't have complete control over this machine, if at all... I am very careful when loading it, pointing the gun towards the valley, where there is nothing else but the torrent and the rocks. I check that the safety is on, I feel that it is, but as soon as I touch the trigger, the gun goes off into the void... it's resonant, it's terrifying... arctic adventure maybe, but I'm stunned, and fortunately Tanguy doesn't seem to be more distraught or to realize the seriousness of the situation, otherwise I think I would have fallen apart. I pull myself together quickly, and we decide to continue the walk. We notice hunters much further down the path, so it's not essential to reload the rifle for the moment. I keep an ammunition in the hand, for lack of replacing it in the cylinder, and it is only a long time after having passed these hunters that Tanguy suggests me that perhaps, it would be more prudent to reload it. I start the maneuver again, trembling, first the safety, check several times and everything goes well this time, the gun is loaded, but it is well blocked. We can continue.
In spite of the novelty of the way, in spite of the landscape of snow-covered mountains, glaciers, and lakes, in spite of the overhanging sight of Qinngaaiva/Walrus Bay, I do not taste anything, I am completely dismayed by this serious incident. I have difficulty to be attentive to our conversations whereas I was looking forward to exchange finally with him. On the way back, well before the village, I unload the gun and I am relieved to put it at home. I don't want to use it anymore, it's not safe, neither for me nor for the others. Definitely more of a gatherer than a hunter! The next morning, when I noticed one of the police cars stopping several times in front of different houses, it didn't take much for me to resume my ranting. We must certainly wonder about the origin of yesterday's gunshot at the end of the day... I go to give the gun back to Nanu Travel as soon as it is open, and I confide my terrible clumsiness to Olena who smiles and plays it down as calmly as possible. It happened outside the village, so there is no problem, these things happen... Age laughs at me when I tell her about the incident, especially when I mention my apprehensions towards the police... and Mette reassures me that it is the classic beginner's mistake... I am not sure I want to laugh about this mistake. Calamity Jane's adventures in the Northeast, ends here!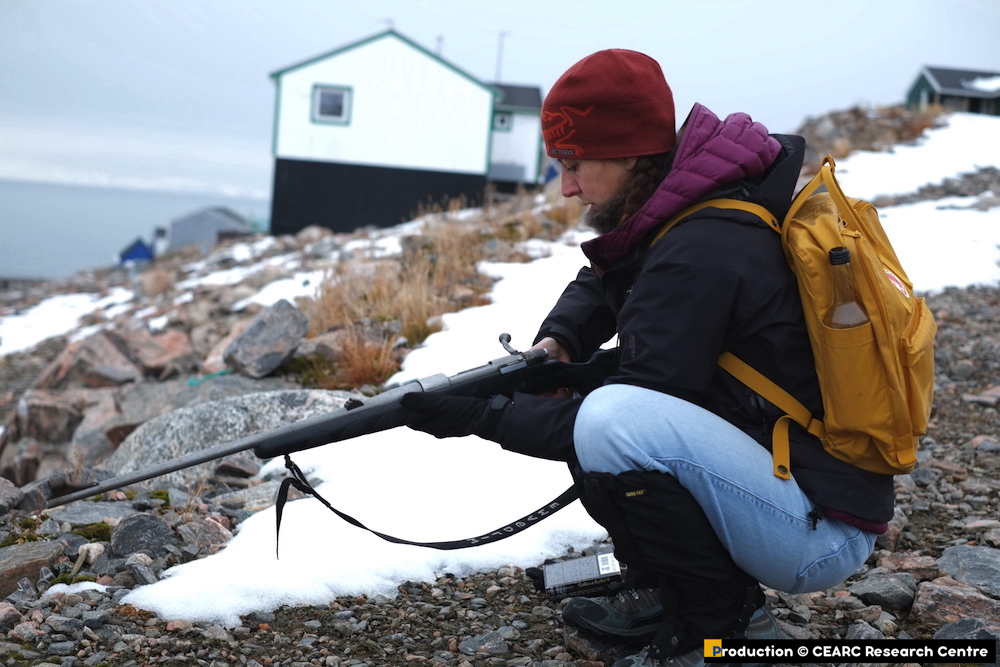 by / par Jeanne Gherardi
Jeudi 23 septembre 2021, journée teintée d'une belle excitation : avec l'idée de profiter des belles journées à venir, après 10 jours d'intempéries, et l'envie d'aller explorer d'autres endroits que le village, j'ai loué un fusil à Nanu Travel, l'agence de tourisme du village. Pour 150 couronnes danoise, environ 20€, on peut louer un fusil de chasse. Olena qui travaille à l'agence, m'a remontré les caractéristiques de ce fusil et puis laissé partir avec… Il est inconcevable de s'éloigner du village sans une arme, pour être parer à la présence éventuelle d'ours polaire. C'est l'occasion d'aller en direction du lac réservoir au nord du village, de se rendre compte de la vulnérabilité de cette ressource dans ce contexte de réchauffement accéléré. Le chemin est bien tracé, malgré la neige qui s'est accumulée par endroit, mais c'est trop à l'écart du village pour s'y aventurer sans arme.
Le jour de l'arrivée de Tanguy, nous décidons d'en prendre la direction ensemble. Une fois sortis du village, bien à l'écart, cela semble le bon moment pour charger l'engin. Sauf que cet engin-là, je ne le maitrise pas totalement, voire pas du tout… Je suis très attentive en le chargeant, en orientant bien le canon vers le vallon, là où il n'y a rien d'autre que le torrent et les cailloux. Je vérifie que la sécurité est en place, j'ai l'impression que c'est le cas, mais à peine effleurai-je la gâchette que le coup part dans le vide… Ça résonne, c'est terrifiant… Aventure arctique peut-être, mais je suis tétanisée, et heureusement que Tanguy ne semble pas plus affolé ou réaliser la gravité de la situation, sans quoi je pense que je me serais effondrée. Je me ressaisis rapidement, et on décide de poursuivre la balade. On remarque des chasseurs bien plus loin sur le chemin, il n'est donc pas indispensable de recharger le fusil pour le moment. Je garde une munition dans la main, à défaut de la replacer dans le barillet, et ce n'est que longtemps après avoir dépassé ces chasseurs que Tanguy me suggère que peut-être, il serait plus prudent de le recharger. Je recommence la manœuvre en tremblant, d'abord la sécurité, vérifier à plusieurs reprises et tout se passe bien cette fois, l'arme est chargée, mais elle est bien bloquée. On peut continuer.
Malgré la nouveauté du chemin, malgré le paysage de montagnes enneigées, de glaciers, et de lacs, malgré la vue surplombante de Qinngaaiva/Walrus Bay, je ne goute à rien, je suis complètement atterrée par ce grave incident. J'ai du mal à être attentive à nos conversations alors que je me réjouissais d'échanger enfin avec lui. Sur le retour, bien avant le village je décharge le fusil et je suis soulagée de le déposer à la maison. Je ne veux plus l'utiliser, ce n'est pas prudent, ni pour moi, ni pour les autres. Définitivement plus cueilleuse que chasseuse. Le lendemain matin, en remarquant une des voitures de police qui s'arrête à plusieurs reprises devant différentes maisons, il ne m'en faut pas plus pour que je reprenne mes élucubrations. On doit certainement s'interroger sur l'origine du coup de feu d'hier en fin de journée… Je vais rendre le fusil à Nanu Travel dès que c'est ouvert, et je confie ma terrible maladresse à Olena qui sourit en dédramatisant le plus calmement du monde. Ça s'est passé hors du village, donc il n'y a aucun souci, ce sont des choses qui arrivent … Age se moque de moi quand je lui rapporte l'incident, surtout quand j'évoque mes appréhensions vis-à-vis de la police… et Mette me rassure en me disant que c'est la classique erreur du débutant… Je ne suis pas sûre d'avoir envie de rire de cette erreur-là. Les aventures de Calamity Jane dans le Nord-Est, se termine là !