Ice fishing / Pêcher sous la glace
At the end of June 2022, the sea ice is still shaping the horizon, thus extending the ice fishing season. Some of us post up on the still thick ice around the city, others go to the frozen lake of Qinngaaiva/Walrus Bay. It is there that I find Camilla and her family. The children came to play on this beach so crucial for the inhabitants of the community. They are not yet old enough to jump from iceberg to iceberg, like the older ones. Camilla offers me to accompany her to fish on the thin ice, I methodically follow her footprints. When she finds the right spot, she stops and carefully reveals her gear. A hook caught in fishing line that unwinds from a gold Playstation controller. We are ready to fish! The ice is not very thick, maybe twenty centimeters. We reuse the gaps opened by the other fishermen and fisherwomen around us, sometimes using a door (a stick usually used to probe the ice) to widen the ice opening. In Ittoqqortoormiit, ice fishing is practiced mainly when the ice is forming in the fall and when it is about to break up in early summer. In the summer, other fishing practices (angling or netting) are deployed in the fjord and in some rivers. If fishing remains a recreational activity here, the changes in ice conditions and the warming of the waters in the fjord could give it a whole new importance in the years to come. For the moment, the polar cod (Uungar) and the Arctic char (Kavorniangar) are the main preys. After several tens of minutes of waving my forearm up and down, I caught my first Kavorniangar. It will be our only catch of the afternoon.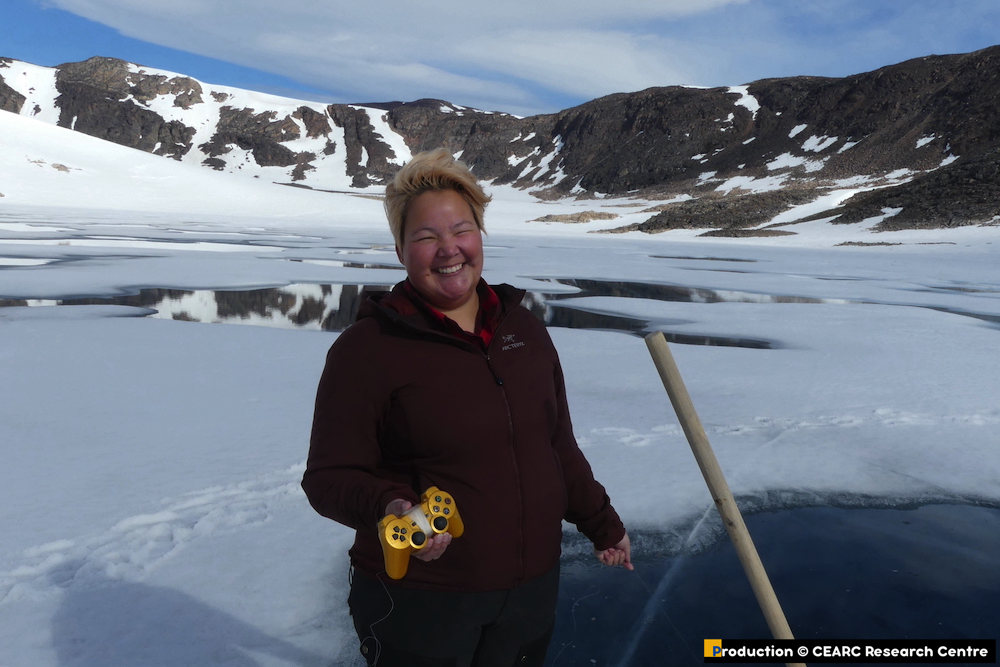 by / par Tanguy Sandré
Fin juin 2022, la glace de mer ne s'est pas effacée de l'horizon, prolongeant ainsi la saison de la pêche sous la glace. Certain·es se postent sur la glace encore épaisse autour de la ville, d'autres se rendent sur le lac glacé de Qinngaaiva/Walrus Bay. C'est là que je retrouve Camilla et sa famille. Les enfants sont venus jouer sur cette plage si cruciale pour les habitant·es de la communauté. Eux ne sont pas encore assez grands pour sauter d'iceberg en iceberg, comme le fond les plus âgés. Camilla me propose de l'accompagner pêcher sur la fine glace, je suis méthodiquement ses empreintes de pas. Lorsqu'elle trouve l'endroit approprié, elle s'arrête et révèle soigneusement son équipement. Un hameçon pris dans du fils de pêche qui se déroule d'une manette de Playstation couleur or. Nous sommes prêt·es à pêcher ! La glace n'est pas très épaisse, vingt centimètres peut-être. Nous réutilisons les interstices ouverts par les autres pêcheurs et pêcheuses présents atours de nous, parfois utilisons un door (un bâton habituellement pour sonder la glace) pour élargir l'ouverture de glace. À Ittoqqortoormiit, la pêche sous la glace est pratiquée principalement lorsque la glace se forme à l'automne et lorsqu'elle s'apprête à s'effacer en début d'été. En été, d'autres pratiques de pêche (à la ligne ou au filet) sont déployées dans le fjord et dans certaines rivières. Si la pêche reste ici une activité de loisirs, les changements de conditions des glaces, et le réchauffement des eaux dans le fjord, pourraient lui donner une importance tout autre dans les années à venir. Pour l'heure, la morue polaire (Uungar) et l'omble chevalier (Kavorniangar) sont les principales proies. Au bout de plusieurs dizaines de minutes à agiter de haut en bas mon avant-bras, je repêche mon premier Kavorniangar. Ce sera notre seule prise de l'après-midi.