Daily colourfulness / Les couleurs du quotidien
October 19, 2021 is just another day, infinitely unrelated to the previous one. Time compresses and lengthens, brings simple joys and deep solitudes, it is palpable and diffuse, it is counted and counted. Even my field journal loses its sense of linearity: some days are absent; others tell old stories. I am not sure when I became a tourist. This morning, I learned with some amazement that it was -7°C today. On November 3, 2021, quads, pickups and big cop cars are becoming rarer, slowly being replaced by snowmobiles. The last boats are sailing in the fjord. Usually, the ice pack takes place in mid-October. This year it will be later, the first ice cubes appeared last week, and since yesterday, frozen carpets appear on the horizon, offering countless shades of blue. The dog sleds have not yet taken their place, but the dogs' rations have already doubled - seal fillets and beautiful portions of orcas are now daily. In the meantime, the village children spend entire evenings on miniature sleds tuned to all sorts of vehicles. The last bicycles were seen more than two weeks ago. On November 18, 2021, the ice pack finally comes to huddle around the village, more than a month late. Subreptitiously, the sea ice has settled that night. When I wake up, for once, I don't feel alone to be subjugated by the horizon. Some people stop, others turn their heads insistently from their quads, which have resisted longer than I thought to the depth of the snow that covers the village. Still, it's pretty warm, with a high of -2°C yesterday. Last week, some hunters rode their dog sleds again, caught by musk oxen near Qinngaaiva/Walrus Bay. But no way to slide on the sea ice yet, it is still far too thin and fragile, forming pancakes that nothing connects to each other. As we get closer, the sounds of cracking intertwine with those of flowing, sweeping the silence.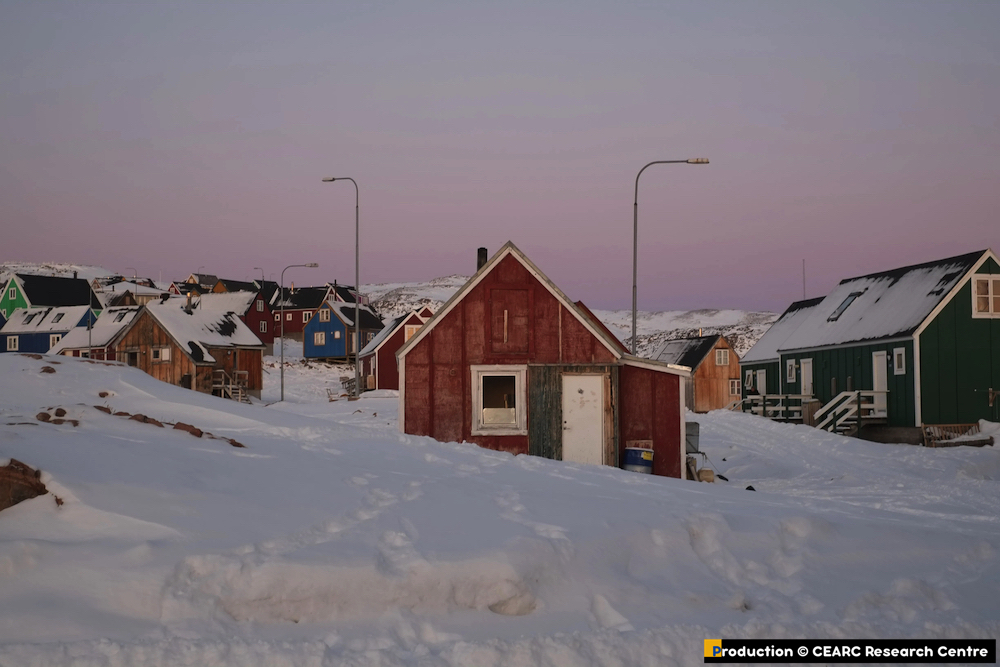 by / par Tanguy Sandré
Le 19 octobre 2021 est juste un jour comme un autre, infiniment sans rapport avec le précédent. Le temps se compresse et s'allonge, charrie joies simples et solitudes profondes, il est palpable et diffus, il se compte et se décompte. Même mon journal de terrain perd sens de la linéarité : certains jours sont absents, d'autres racontent de vieilles histoires. Je ne sais plus bien quand je suis devenu un touriste. Ce matin, j'ai appris un peu avec stupéfaction qu'il faisait -7°C aujourd'hui. Le 3 novembre 2021, les quads, les pickups et les grosses bagnoles de flics se font plus rares, peu à peu ringardisées par les motoneiges. Les derniers bateaux naviguent dans le fjord. Habituellement, la banquise prend place à la mi-octobre. Cette année ce sera plus tard, les premiers glaçons sont apparus la semaine dernière, et depuis hier des tapis gelés apparaissent à l'horizon, offrant d'innombrables nuances de bleu. Les traîneaux à chiens n'ont pas encore pris leur place, mais les rations des chiens ont déjà doublé - les filets de phoques et les belles portions d'orques sont désormais quotidiennes. En attendant, les enfants du village passent des soirées entières sur des traîneaux miniatures accordés à toutes sortes de véhicules. Les derniers vélos ont été aperçu, il y a plus de deux semaines. Le 18 novembre 2021, la banquise vient enfin se blottir autour du village, avec plus d'un mois de retard sur ce qui fait habitude. Subrepticement, la glace de mer s'est installée cette nuit. Au réveil, une fois n'est pas coutume, je ne me sens pas seul à être subjugué par l'horizon. Certain·es s'arrêtent, d'autres tournent la tête avec insistance depuis leurs quads, lesquelles ont résistées plus longtemps que je ne l'aurai pensé à l'épaisseur de la neige qui couvre désormais le village. Malgré tout, il fait plutôt chaud, avec un pic à -2°C hier. La semaine dernière, certains chasseurs ont chevauché à nouveau leurs traîneaux à chiens happés par les bœufs musqués près de Qinngaaiva/Walrus Bay. Mais pas question encore de glisser sur la glace de mer, elle est encore bien trop fine et fragile, formant des pancakes, des galettes que rien ne relie les unes aux autres. En se rapprochant, les sonorités de craquement entrelacent celles d'écoulement, balayant le silence.