Greenlandia

The main goals of Greenlandia are to understand, document and communicate the current impacts of climate change on the way of life of the most exposed communities.
Understand: through scientific research
Greenlandia is an interdisciplinary project of climatic ethnology.
Its originality: combining humanities and science.
The expedition to Scoresby Fjord, our first mission, will begin in 2020.
On land, the team of ethnologists will collect the testimonies of the inhabitants of the village of Ittoqqoortormitt while in the fjord, part of the team will conduct the scientific sampling (climatology, meteorology, glaciology, biology, etc.).
These methods will offer a global and transverse view of the climate situation, at a given place, of humans and their environment.
Document: a portrait of life
Throughout the duration of our expedition, parallel to the science, we will constitute a documentary collection with photographs, video reports, TV documentaries, texts etc. This work of conservation and memory, integrating existing scientific and local data, will result in the creation of online archives on the consequences of current climate changes in the places chosen by Greenlandia.
Communicate: inform and educate younger generations
Discovering and listening to these communities confronted with the consequences of climate change will be instrumental to raising awareness among young local people. They are those who will continue traditions and pass on the related knowledge to fight climate change.
To realize this potential, we will set up educational tools (Climate Awareness Workshop, filming shared videos, etc.). Throughout the expedition, videoconferences will take place between the school fjord and colleges in France to raise international awareness.
The project is created and directed by Vincent Hilaire.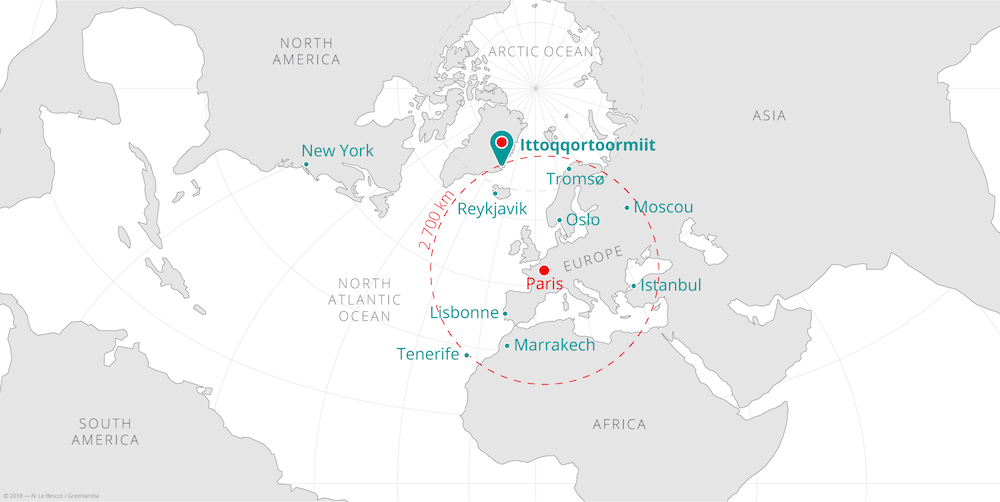 First expedition in May 2020
Between 1925 and 1936, Jean-Baptiste Charcot conducted eight summer scientific missions in the Arctic, in Scoresby Fjord (Greenland) aboard the ship Pourquoi-pas ?
In 1932-1933 he was entrusted with organizing a part of the International Polar Year and logically chose to lead this mission from a base camp, the small village of Ittoqqortoormiit, located at the mouth of the Scoresby Fjord.
In 1936, the disappearance of Commander Charcot and his crew caused national mourning. A pioneer of French polar expeditions and studies on climate change, the "gentleman of the poles" left behind important unfinished research.
Almost a century later, and after a treasure hunt of several months, the Greenlandia team has discovered the existence of an unbelievable scientific, cartographic and ethnological fund on these former missions in Greenland. These samples, reports and data, found at the French National Museum of Natural History and in the Archives of the French meteorological center Meteo France, have never been studied yet.
Today, for its first expedition, the Greenlandia Team wishes to continue and complete the work of Commander Charcot by collecting new data in order to understand the evolution of climate change in the Scoresby Fjord and its impact on local population.
Involved members:
Jean-Michel Huctin

Jean-Paul Vanderlinden
Website: http://www.greenlandia.org
Related news: