Polar bears's skin / Peaux d'ours
May 10, 2022, I arrived the day before, and already I feel that this second field will be very different from the first. The permanent daylight, the clarity of the non-night, is already a physical adventure in itself. Early in the morning, I head towards the school to feel all the activity of the village. It is 7:50 am, the children arrive at the school, dropped off by snowmobile by their parents. I find familiar figures who welcome me with a smile. Among them, Josef, a professional hunter, who had given me the honor of fresh seal liver, a real local delicacy during my autumn stay. I congratulate him for the beautiful bear skin hanging in front of his house, drying on wooden structures. He proudly tells me that he has beaten his record this year, with 9 bears to his credit. In this month of May, the quota of 35 polar bears for the community was recently reached, but 5 more were granted, because of their "omnipresence" this winter? because of an evaluation of the local population of ursus maritimus? Nobody knows the answer to this question, but the hunters are happy about this situation, and the inhabitants of the village are reassured: they don't have to live in fear of an attack, the hunters are watching. While making my usual tour on the snowy roads of the village, I can indeed notice in front of the hunters' houses, or on their container serving as workshop, that sumptuous skins are stretched and put to dry. The conditions of this end of winter are ideal, a dry cold which allows to dry the leather without blackening it. I feel anchored in this village again when I realize that I find these skins beautiful and that I am happy for the hunters.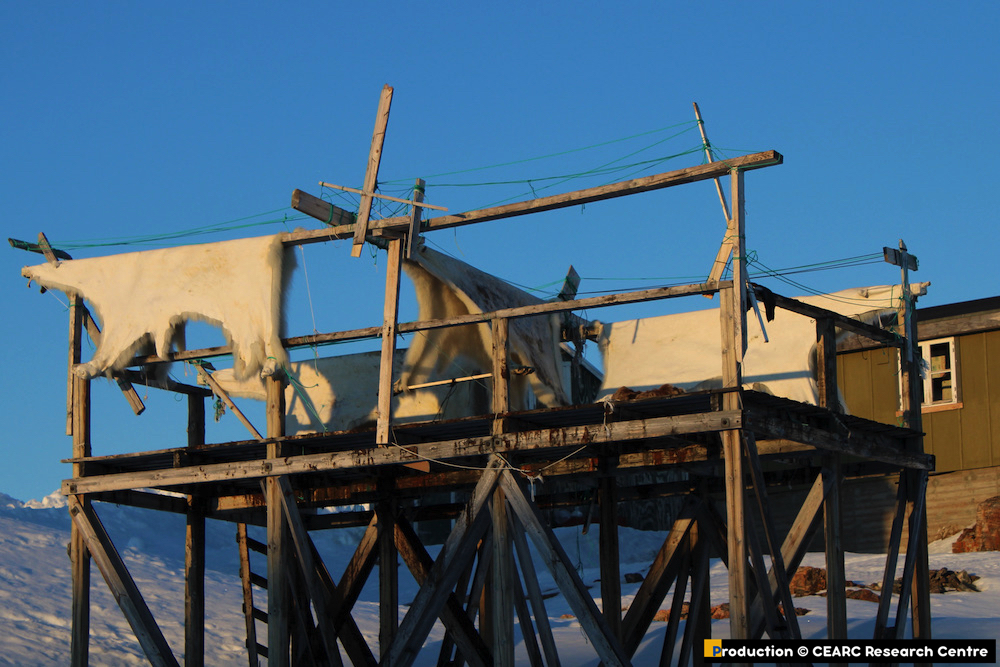 by / par Jeanne Gherardi
10 mai 2022. Je suis arrivée la veille, et déjà je pressens que ce second terrain sera très différent du premier. Le jour permanent, la clarté de la « non nuit », est déjà une aventure corporelle en soi. Au petit matin, je me dirige vers l'école pour y sentir toute l'activité du village. Il est 7h50, les enfants arrivent à l'école, déposés en motoneige par leur parent. Je retrouve des figures familières qui m'accueillent avec le sourire. Parmi elles, Josef, chasseur professionnel, qui m'avait fait l'honneur de foie de phoque frais, une véritable friandise locale lors de mon séjour automnal. Je le félicite pour la belle peau d'ours suspendue devant chez lui, en train de sécher sur des structures en bois. Il m'annonce fièrement qu'il a battu son record cette année, avec 9 ours à son actif. En ce mois de mai, le quota de 35 ours polaires pour la communauté a été atteint récemment, mais il a été accordé 5 ours supplémentaires, en raison de leur « omniprésence » cet hiver ? En raison d'une évaluation de la population locale d'ursus maritimus ? Personne ne sait répondre à cette question, mais les chasseurs se réjouissent de cette situation, et les habitant·es du village sont rassuré·es : ils n'ont pas à vivre dans la crainte d'une attaque, les chasseurs veillent. En faisant mon tour habituel sur les routes enneigées du village, je peux en effet noter devant les maisons des chasseurs, ou sur leur container servant d'atelier, que de somptueuses peaux sont étirées et mises à sécher. Les conditions de cette fin d'hiver sont idéales, un froid sec qui permet de sécher le cuir sans le noircir. Je me sens à nouveau ancrée dans ce village quand je réalise que je trouve ces peaux magnifiques et que je me réjouis pour les chasseurs.