Arctic Royal Line
19 May 2022. From the village of Ittoqqortoormiit, looking east towards the mouth of the fjord, you can see the hamlet of Unnartoq, located 7 km away as the crow flies. From this place, in return, one has a singular sight on the village. This year, the entrance of the fjord is entirely covered with ice, it has not happened for 20 years. All this ice as far as the eye can see, explains the absence of animals which are usually very numerous around the hamlet. "The ice is very far away this year, it must be hard for the hunters. You have to go farther to hunt.
This hamlet of about twenty houses along the cape was closed at the end of the 1980s, the electricity was cut off, and the inhabitants were relocated to the larger town of Ittoqqortoormiit. However, the houses were not abandoned. Many have kept them and now consider this place a valuable vacation spot from which to escape the hustle and bustle of the village. It is also the place where one goes to observe the polynya, that area of ice-free water that usually attracts many marine mammals. Finally, it is the privileged observation post for bears. Every winter, Evald, among others, comes to settle in his old house, with his binoculars and spend hours observing the lord of the place, counting them. He keeps a register for several years in which he notes all his observations. For example, in 2019, he observed 153 bears from January to mid-April. He also notes the day when the quota of 35 bears allowed for professional hunters in the village is reached; it was April 16 in 2019, the 22nd in 2020.
Unnartoq looks out to both the vastness of the ocean to the east and the vastness of the fjord to the west, the quality of the silence, the clarity of the air and the clarity of the view are conducive to contemplation.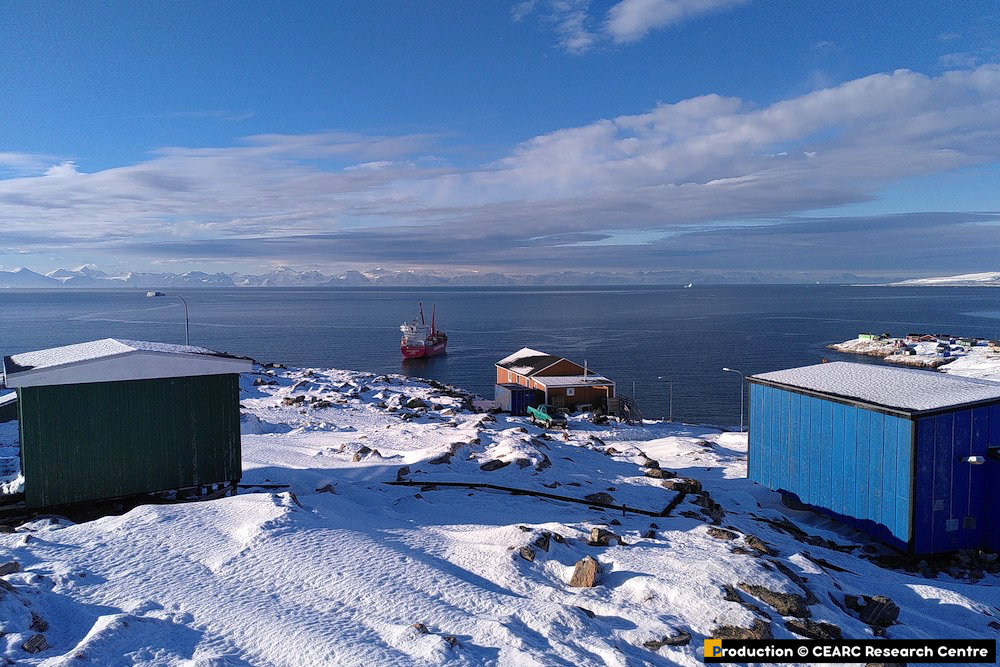 by / par Tanguy Sandré
3 octobre 2021. Le cargo de la Royal Arctic Line vient juste de quitter le fjord sous un modeste feu d'artifice dont les habitant·es d'Ittoqqortoormiit ont le secret. Pendant deux jours et demi, des allers-retours incessants entre le cargo, amarré à une centaine de mètres du trait de côte, et les hangars du Pilersuisoq, l'épicerie locale. Entre temps, les conteneurs sont déplacés de la plateforme du navire à un bateau à moteur qui reliera le rivage, avant qu'un camion ne le relai sur terre pour parcourir les trente derniers mètres jusqu'aux hangars. Devant, les employé·es sont à l'affut, bientôt rejoint par les habitant·es qui souvent attendent elleux aussi des livraisons personnelles. Il s'agit du deuxième et dernier cargo de l'année. Cette grande opération logistique se déroule seulement deux fois par an, un première fois début août et une seconde fin septembre/début octobre donc. Il faudra donc attendre dix mois pour que les étales de l'épicerie soient re-remplies ou pour faire venir des fournitures encombrantes. De nombreux habitant·es soutiennent qu'avec la réduction de la banquise dans le fjord, il est désormais possible et souhaitable qu'un troisième bateau relie Aarhus (Danemark) à la communauté à l'automne. En octobre 2022, les habitant·es de la ville ont lancé une pétition en ligne pour soutenir leur demande, d'autant que cette année de nombreuses livraisons n'auraient pas été honorées par la compagnie danoise. Le reste de l'année, des arrivages légers de fruits et de légumes ou d'œufs arrivent par voies aériennes depuis l'Islande à des prix souvent prohibitifs.