Moustapha Sokhna Diop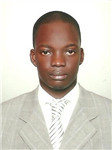 moustaphasd [at] yahoo.fr

 Presentation
Embassy of Senegal in Turkey: 1st Counselor, in charge of Politic/ economic/ consular issues and Chargé d'Affaires in the absence of Ambassador and consular

Ministry of Foreign Affairs Senegal / Directorate of International Organizations: Responsible for political, economic, cultural and technical matters relating to the International Organisation of Francophonie (OIF), the Organization of Islamic Cooperation (OIC), the Non-Aligned Movement (NAM), the Group of Fifteen (G15), the Palestinian issue... etc. 

Civil Administrator Trainee at the Ecole Nationale d'Administration (ENA) Diplomacy Section

Geographer in charge of GIS (Geographical Information System) of the Regional Development Agency (RDA) of Louga
Research themes:
VULNERABILITY OF NATURAL AND HUMANS SYSTEMS IN CLIMATE CHANGE ADAPTATION STRATEGIES OF POPULATIONS AFFECTED BY FLOODING IN THE CITY OF DAKAR, SENEGAL.
Senegal, a Sahelian country is widely exposed to vulnerabilities of climate change like deforestation, desertification, loss of rainfall, severe drought since the 1960s period. Dakar the main city, capital of Senegal has been seriously affected by this phenomenon. The return of heavy rains, after many years of drought, has caused a series of floods in all the country. This situation has been intensified in the capital by the modification of land use due to the rapid and uncontrolled urbanization, mostly in risked areas, the fast population growth, the hydro geological context, the malfunction of the hydrologic system, and the absence of a performing drainage network.
The present analysis is a contribution to the study of perceptions and adaptation strategies which will be implemented with local populations in order to reduce vulnerabilities created by the flooding in the context of climate change. In this frame, the study of popular perception on the risk of flooding will be an important contribution for the development of adaptation strategies based on community knowledge and scientific approach.
Publications:
"Fishing at Lake Guiers (Senegal):" ISBN 978-613-1-58490-9,  2011

 CV
2010-now: Counselor of the Foreign Affairs, Deputy Head of Mission, 1st Counselor in Senegal Embassy in Turkey 

2012: PhD,  University of Versailles Saint-Quentin-en-Yvelines

​2007-2010: Counselor of the Foreign Affairs in the Direction of the International Organizations 

2010: Master 2 Environment, Health and Planning, UVSQ

​2010: Master 2 and Strategic Intelligence, University Jean Moulin Lyon III

2007: Master of Diplomacy, National School of Administration (ENA) Dakar in Senegal

2004: Master of Geography/Environment  of UGB Saint-Louis

2003: Bachelor of  Geography/Environment UGB of Saint-Louis
Last revision: May 2014